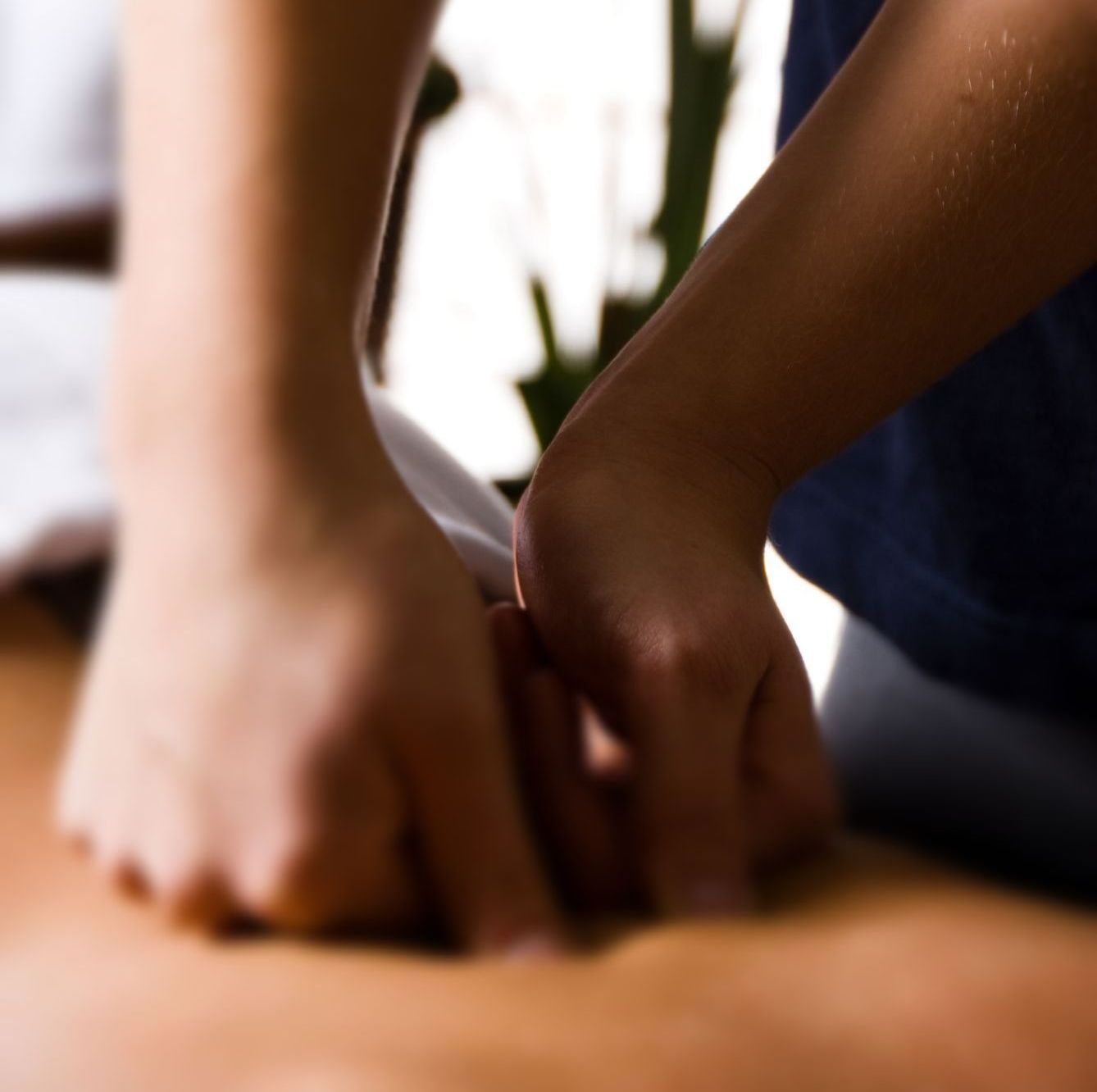 This massage aims to reduce muscle tension, joint stiffness and chronic pain. It targets connective tissue that may have formed into stubborn, fibrous knots and stimulates and conditions the muscular system. A great remedial massage treatment which as the name suggests really gets in there and is quite intense. If you're not sure if this is for you, then why don't you try the classic massage first and see how you get on? Please contact us if you'd like to book an appointment and further information about deep tissue massage can be found below.
Treatment Room Appointments:
1 hour: £45
75 mins: £50
Mobile Appointments:
1 hour: £55
75 mins: £60
The mobile appointment price includes travel to your home if you live in the north/west Leeds areas. If you live outside these areas a small, additional travel charge may be made. Please contact us for more info.
more information on deep tissue massage
Deep tissue massage is a specialised form of massage that focuses on releasing restrictions and adhesions in the muscles, tendons and ligaments. It is quite an intense massage (but not necessarily painful!) that works below the more superficial level of muscles, with the intention of breaking up restrictions, to provide relief from physical pain and discomfort. It can also direct nutrients and oxygen to areas of poor circulation and can relax the spine and joints in order to help re-align them.
who is it suitable for?
Deep tissue massage is suitable for anyone experiencing physical discomfort, and who are in general good health (please do have a look at more information on when massage may not be suitable).
Most people develop some negative postural habits caused by repetitive actions; walking or standing in a similar position for long stretches of time; as a result of psychological and emotional issues; or occasionally, as a result of all of the above. These poor postural habits can then contribute to the gradual development of muscular imbalances leading to pain and tension.
Adding to this, those who work or are involved in sports that require a high level of muscular output can often accumulate residues of lactic acid in their muscles, which can also lead to stiffness and pain. Deep tissue massage, in encouraging blood flow to these areas, helps flush away this build-up of residue and breaks down the adhesions and restrictions caused by muscular imbalance, relieving any discomfort they cause.
deep tissue massage can be of specific help to:
People who suffer with chronic joint or muscle pain
Athletes and those of you who enjoy participating in sports
People who have jobs that require them to sit in a similar position for long periods of time
Those with jobs which involve performing repetitive work
People suffering with stress
how does it work?
Deep tissue massage uses slow, gradual pressure to access the deeper layers of the body, working beyond the superficial level of muscles. However, we will always work within your comfort levels and will frequently check in with you to ensure that the pressure is not becoming too painful. Please remember that massage isn't an endurance test! In fact too much pressure can actually work against you, as a muscle placed under too much force usually responds with more resistance which can cause the muscle to react by going into spasm. This will only worsen any pain and discomfort in the areas we are aiming to treat.
When any restricted, knotted, or painful areas are identified, your therapist will work with you to help loosen these by slowly building up pressure and working into the deep layers of muscle tissue. Your feedback is really useful during the treatment to help guide your therapist to areas of pain or discomfort. The key to a good deep tissue massage is to relax and to let us know if you are experiencing discomfort!
need more information?
If you are interested in trying this treatment, please just contact us if you'd either like to find out more or make an appointment.
If you aren't sure whether this treatment is for you, then why don't you try our classic massage first and let your therapist know you are interested in deep tissue massage and we'll answer any questions and incorporate some deep tissue work into your treatment to see if it helps and is what you expected.
about us
At Calico Massage Therapy we work from a purpose built, comfortable and accessible treatment room in Headingley, Leeds. There is parking at the door and we are open daytimes and evenings. We also offer mobile appointments around the Leeds and Bradford areas, allowing you to have a massage in the comfort of your own home. Our massage therapists are trained to leading national and international standards and are fully insured to work with you.