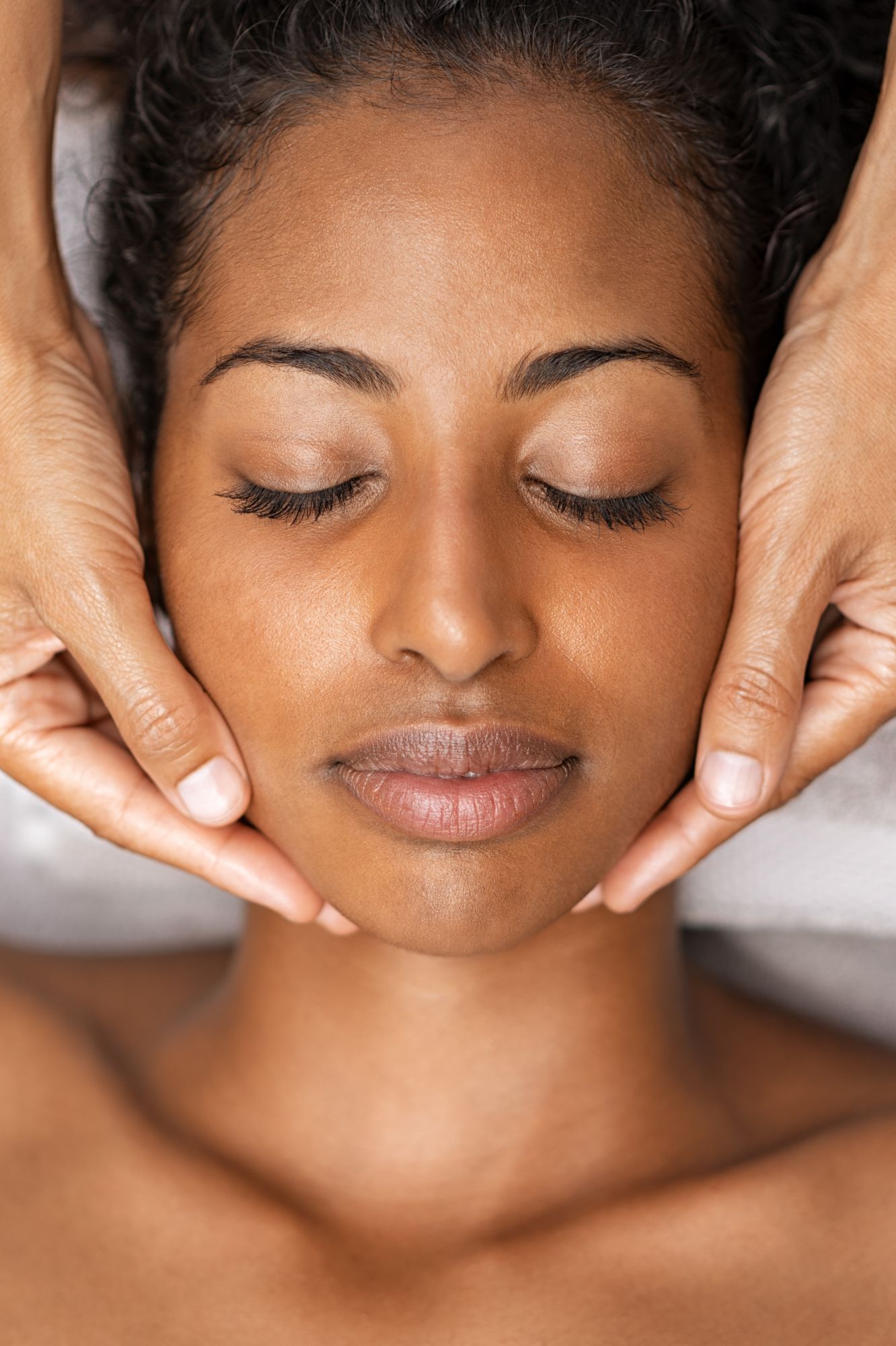 natural lift facial massage
This is a wonderfully relaxing treatment that can lessen the appearance of wrinkles and expression lines and tighten facial contours. Your therapist will release deep-seated tension in the face, freeing layers of muscle and connective tissue and toning the entire area. A great one-off treatment before a special event or ideally a series of 6-8 weekly sessions will give you the best long-term results. Please see below for more information about this treatment or contact usto find out more or have a chat about what treatment would suit you best.
Treatment Room Appointment:
1 hour: £40
Mobile Appointment:
1 hour: £50
The mobile appointment price includes travel to your home if you live in the north/west Leeds areas. If you live outside these areas a small, additional travel charge may be made. Please contact us for more info.
more information on the natural lift facial massage
The natural lift facial massage, which is also known as facial rejuvenation massage or the 'natural facelift' massage, uses a range of massage techniques to help improve the appearance of fine lines and reduce facial tension and puffiness.
When you think about it, our faces are in constant use from smiling, frowning, eating, yawning, crying etc (hopefully more smiling than frowning!) and so it is no wonder that our facial muscles can get tense. This tension can restrict the blood vessels feeding our facial tissues, which reduces blood and lymph circulation to the face and prevents the efficient removal of waste products. This massage treatment reduces muscle tension and improves blood flow to encourage a fresher and healthier look.
And the benefits keep coming! The treatment also helps to loosen up constrictions in the face's connective tissue and to improve muscle tone and skin elasticity. Add to this the ability of the treatment to help the recipient relax and unwind (which inevitably also helps bring out their natural beauty and radiance), we believe that this is the most wonderful alternative to the more chemical-heavy facial treatments out there.
benefits of natural lift facial massage
The natural lift facial massage can:
Improve skin suppleness
Reduce and release any muscle tension in the face and jaw
Reduce the appearance of expression lines and wrinkles
Help relieve stress symptoms such as insomnia, headaches and eye strain
Tone and help tighten the skin and underlying muscle
Aid lymphatic circulation, increasing the elimination of toxins and the supply of nutrients to the cells
Aid the removal of dead skin cells
Promote blood circulation
Enhance relaxation
who is it suitable for?
This treatment is great for those who wish to improve their appearance but it is also a great treatment for those suffering with facial tension (if you are spending hours in front of a computer) or for those who are going through a particularly stressful time. There are occasions when massage may not be suitable but do call or email us to have a chat about this if you do suffer with any health problems but would like to try the treatment and we can advise you.
what does it involve?
We love giving this treatment as it is such a wonderfully relaxing experience for our clients. Your therapist will help you onto the massage couch, wrap you up in blankets to keep you warm and then begin with a wonderfully soothing neck and shoulder massage, working out tension in your upper arms, chest, neck and shoulders and encouraging the flow of blood to the face.
We'll then start working systematically over the face to smooth and lift, stabilise and drain the face of waste products, finishing off with some completion movements to gently bring you round so that you are ready to face the world again.
how often should I have the treatments?
It is useful for you to know that the treatments will be most effective if you have a series of 6-8 sessions, however as you can generally see the positive effects of the treatment after your first session, it is also a wonderful treatment for you to have before a special event or as a one-off treat.
We'll also give you details on how to give yourself a ten minute facial massage between treatments so that you can continue the good work!
a bit of history
This massage blends techniques drawn from both Japanese and Indian face massages and also incorporates techniques from acupressure and facial reflexology. The Eastern philosophy of beauty being synonymous with health and well-being really appeals to us and the intention of this treatment is to help enhance natural health and happiness – all that is needed to be truly beautiful!
need more information?
If you have any questions at all or would like to book an appointment, please don't hesitate to contact us.
about us
At Calico Massage Therapy we work from a purpose built, comfortable and accessible treatment room in Headingley, Leeds. There is parking at the door and we are open daytimes and evenings. We also offer mobile appointments around the Leeds and Bradford areas, allowing you to have a massage in the comfort of your own home. Our massage therapists are trained to leading national and international standards and are fully insured to work with you.